Antonio Conte is an Italian professional football manager and a former player. As a player, Conte was a versatile, energetic box-to-box midfielder.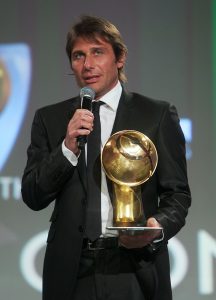 Listed are 10 interesting facts about Antonio Conte:
Antonio Conte played his entire career in Italy. He made almost 100 appearances for Leece before switching to Juventus in 1991 where he featured in almost 300 games and scored more than 290 goals.
Conte went on to win consecutive Serie A titles in 2012-13 and 2013-14, the latter in which Juventus recorded 102 points, which was another league record.
Conte started his playing career at Lecce but it was with Juventus that he made his name. With over 300 appearances he won five Serie A titles, a Champions League medal in 1996 as well as numerous other cups.
Conte was handed a 10-month ban for failing to report alleged match-fixing in 2012. He was however freed of all charges earlier this year.
According to rumors, Conte is one of the very few managers who love to breathe football. He talks tactics on a daily basis.
Both as a player and as a manager, Conte has won trophies galore, and that should come in handy in the high-pressure environment of Stamford Bridge.
After signing as a Chelsea Manager he had to learn English for the role at Stamford Bridge.
In 2012 he emulated the great Marcelo Lippi
He played for just two clubs having begun his career with his home-town team Lecce in southern Italy.
Under Conte's management, Italy qualified for Euro 2016 undefeated in their 10 games. They impressed at the finals. Italy beat Belgium by 2-0 in their opening match. Then they beat Sweden by 1-0 win.